Smoky Pork, Bacon, and White Bean Chili
Author: The Chilli Factory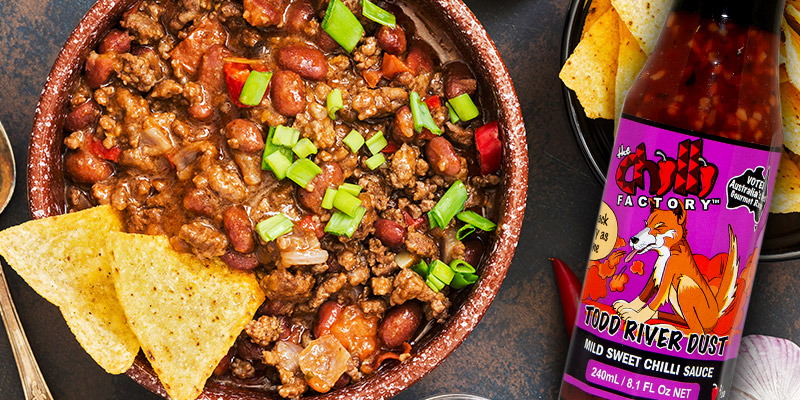 TODD RIVER DUST - Mild Sweet Chilli Sauce
To make this chili even more smolderingly smoky, add a finely chopped chipotle chile (from a can of chipotles in adobo sauce) along with the onion, or add some cayenne powder along with the chili powder. You can also cook this recipe in a slow cooker—start it in a large skillet, then just before adding the tomatoes, transfer everything to a slow cooker and proceed from there in the slow cooker. On the side, serve warm tortillas, tortilla chips, corn bread, or a green salad with radishes, avocado, and cilantro.
---
Ingredients
6 SERVINGS
1 1/2 pounds pork loin roast (cut into 3/4-inch dice*)
8 ounces bacon (thick-cut,, 5 or 6 slices, cut crosswise into 1/4-inch strips)
1 onion (large, cut into 1/2-inch dice)
2 tablespoons chili powder
1 tablespoon smoked paprika
29 ounces roasted tomatoes (diced fire-)
1 1/2 cups water
30 ounces cannellini beans (white kidney or other white beans, drained)
Salt
1/2 cup sour cream (optional)
2 scallions (thinly sliced, optional)
Directions
STEP 1
In a large saucepan or small stockpot over medium heat, cook the bacon, stirring occasionally, until crisp, 8 to 10 minutes. Use a slotted spoon to transfer the bacon to a paper towel-lined plate and set aside.
STEP 2
Add the onion to the bacon fat and cook, stirring occasionally, for 2 minutes. Increase the heat to medium-high, add the pork, and cook, stirring occasionally, until the onions are crisp-tender, 6 to 8 minutes. Stir in the chili powder and paprika. Stir in the tomatoes (with their juices) and water. Bring to a boil, reduce to a simmer, and cook, stirring occasionally, until the pork is tender, 35 to 45 minutes.
STEP 3
Stir in the beans and about 2/3 of the bacon and cook, stirring occasionally, until heated through, about 10 minutes. Add salt to taste. Serve the chili garnished with the remaining bacon and the sour cream and scallions, if using.